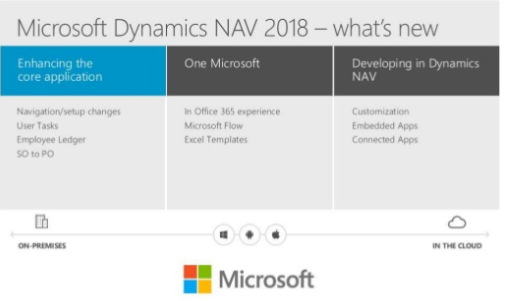 More than a year after the release of Dynamics NAV 2017, its successor has arrived in NAV 2018. Dynamics NAV 2018 offers a range of new feature as well as deeper interoperability across the Microsoft ecosystem. Most importantly, this latest version of NAV 2018 is deeply integrated with Office 365 and includes built-in Power BI. This makes it easy to use, compliant to specific industry needs and helps companies make better business decisions.
There are many new features in Dynamics NAV 2018 but here are a few developments which could be of interest to the application users.
User Tasks: New user Tasks allow you to create tasks to remind you of work to be done. Users can create tasks for themselves and assign tasks to others or be assigned a task by someone else in your organization. You can set reminders with a due date, priority level, start date, percentage for how much of the task is completed, and which other users are assigned to the task. Outstanding tasks can be viewed as a Cue on the Role Centre page and can be linked to pages or reports within Dynamics NAV, which can be opened and therefore actioned, directly from the task.
Employee Ledger Entries: In general journal lines, there is a new account type and new balancing account type, Employee. Posting a general journal line with Employee as account type or balancing account type will generate an Employee Ledger Entry. You can use this account type to post a payment to an employee. You can apply payments to an Employee Ledger Entry either via the Applies-to Doc. No.field on the payment journal line or by choosing the Apply Entries action on the Employee Ledger Entry when posting a general journal line for an employee, the Document type field must be either blank or set to Payment.
Power BI reporting: Perhaps With the new Power BI reporting control, you can gain awareness to your Power BI reports by making them visible from within the most highly-used lists in Dynamics NAV. Not only are you able to view Power BI reports you select, but you can also interact and filter the reports by selecting records from the associated list page.
Bulk posting of orders, invoices and credit memos: Are your sales going so well that you can't process the avalanche of invoices fast enough? Are your resources losing time in posting the single invoice? Is this luxury problem becoming a drain on resources? No worries, now you can process batches of orders, invoices, or credit memos in one go by choosing the documents and then choosing Post selected. This features of NAV 2018 has really saved a lot of time to the users!
Preconfigured Excel reports: This feature will really make the bookkeeping department very happy. !! The Business Manager and Accountant Role Centers have a new option in the ribbon for Excel Templates. From the Excel Templates list, you can choose a pre-configured report
Such as Balance Sheet and Income Statement that is ready to print from Excel.
Integration with Dynamics 365 for Sales is now easy: Now with NAV 2018 the integration with Dynamics 365 for sales is made very easy and the users can do the same in a few steps. The assisted setup helps you synchronize your data across the two apps, including sales orders, item availability, units of measure, and currencies. The existing integration with the app formerly known as Dynamics CRM has been rebranded and simplified to work better out of the box. The connection setup guide now includes coupling of salespersons to users of Dynamics 365 for Sales as this is a prerequisite for any synchronization of data between Dynamics 365 for Sales and Dynamics NAV.
Image Analyzer: The Image Analyzer extension uses powerful image analytics provided by the Computer Vision API for Microsoft Cognitive Services to detect attributes in the images that you add to items and contact persons, so you can easily review and assign them.

Contact persons recognize a person's gender, or age.

Items Identify attributes like type and color. For example, whether it's a table or a car, or red or blue.
Image Analyzer suggests attributes based tags that the Computer Vision API finds a confidence level. After you enable the extension, Image Analyzer activates each time you add an image to an item or contact person. You'll see the attributes, confidence level, and details right away, and can decide what to do with each attribute.
Web Client Improvements: With new Dynamics 2018, there is a lot of improvement in a Web Client. One of the improvements is the availability of Print Preview for non-Internet Explorer browsers (Google Chrome, Microsoft Edge, Mozilla Firefox, and Safari).
Now we can use Web Client as a tool for user personalization. Of course, when we change something, it can be viewed in Windows Client as well, but the place for configuration is Web Client.
Cancel or correct job related posted invoices: It was possible to cancel the posted Invoices in earlier NAV versions, however, in NAV 2018 it has been made easier and some of the steps are eliminated. Now user just chooses the Cancel or Correct actions on the posted invoice and a credit memo will be created. The job planning lines will be created automatically in the background. Remember, though, that you may need to review the planning lines later if you decided to modify a corrective invoice. You are not allowed to post corrections for jobs that have the status Blocked.

Posting setup improvements and missing posting notifications: users can now see a visual indication of mandatory G/L accounts that must be set to cover most of the scenarios For example, in Inventory Posting Setup, you'll see the Inventory Account having mandatory asterisk, while in General Posting Setup, the Sales and Purchase accounts. Open posting setup cards to see only accounts needed for features you've enabled. For example, if you don't have the payment discounts posting feature enabled, your payment discount G/L accounts won't clutter your view while setting up general posting.

Migration from QuickBooks: with NAV 2018 users can now import payroll transaction files in the QuickBooks IIF format by installing the QuickBooks Payroll File Import extension. Aggregated payroll data, including date, payroll account, description, and amount, will be imported to your G/L accounts according to mappings that you perform

Microsoft Dynamics 365

once per payroll account. The extension also contains a sample payroll file that you can use to try out the functionality.

Submission of EC Sales List with more than 9999 lines: Users can now submit the EC Sales List report with more than 9999 lines. All they need to do is set a threshold on the number of lines in the VAT report configuration for the EC Sales List report. Set the Maximum No. of Lines field to 9999. When the user submits such large EC Sales List reports, we will generate messages and send them to the government gateway. One can see the results of the submission in the Log Entries window.
Additional features include a more structured setup & extensions action, Synchronize vendors with Lexmark ICS, Posting directly to general ledger accounts from documents, Intrastat reporting improvements, Retrieve customer, vendor and contact name and address from VAT Registration Number [UK only], Change global dimensions improvement, Intrastat reporting improvements, Enhancements for North America Electronic Funds Transfer (EFT) functionality, Print 3 check per page and much more.
If you are evaluating ERP solutions for your business, Microsoft Dynamics NAV 2018 is a popular choice. It is an all-in-one solution based on cloud and suitable for all type of industries. With its new and improved functionalities, Dynamics NAV 2018 is surely going to give you a better user-friendly experience. Choose a vendor wisely after knowing your business needs and their offerings. Please get in touch with us and the consultants from Akkomplish team will really make the implementation successful.
If you are looking to upgrade to NAV 2018 from earlier versions then also feel free to write us on info@akkomplish.com.