Microsoft Dynamics 365 Business Central Launches in India
Microsoft Dynamics 365 Business Central is launching in India, and we are super excited about it! Yes, the wait is over, and finally, Business Central will launch in April in the Indian Market.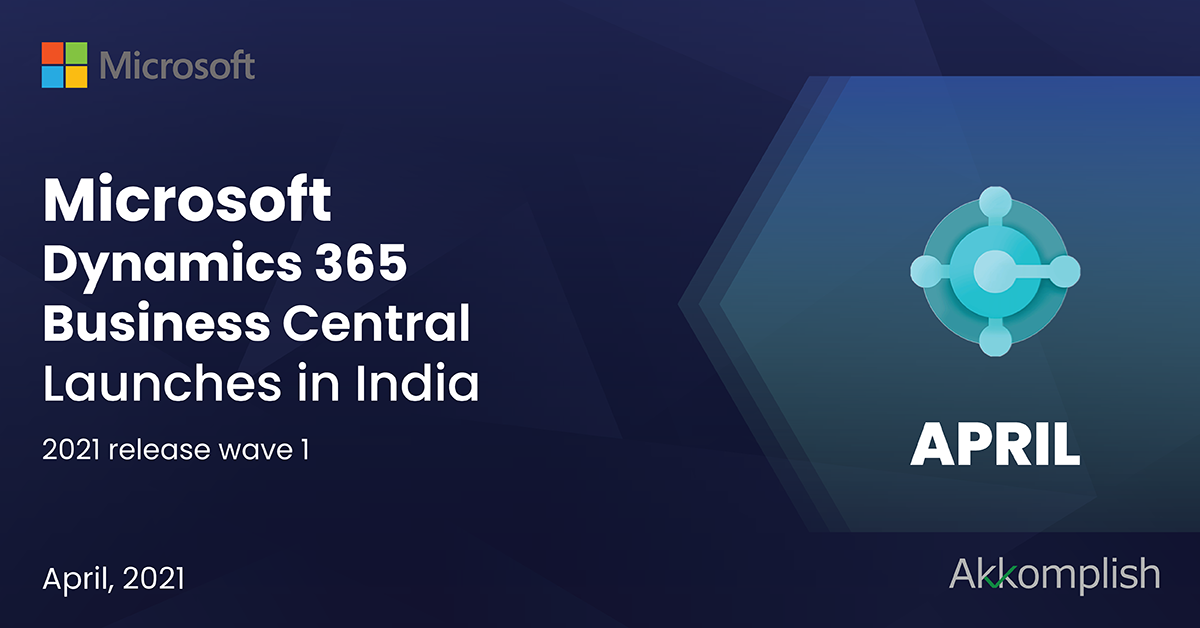 Value-added to your Business through MSD365BC 
To meet the demand for Dynamics 365 Business Central online Microsoft has finally considered launching it in India. It increases Business Central's global availability for small and midsized businesses. Microsoft plans to deliver new localization for India.
Akkomplish Group is the pioneer in the implementation, integration, and migration of data for Business Central for hundreds of clients globally. We have been around since the launch of Business Central in the US and have worked closely with Microsoft and its partners on various localization models.
We plan to have exciting events and webinars around this launch and wish to take the Indian market by storm with our highly experienced and talented team of Business Central consultants.
Impact of using Business Central on your Business
Microsoft Dynamics 365 Business Central is an all-in-one business management solution that assists companies to link internal sales, financials, service, and operations to streamline business processes, elevate customer interactions and make informed decisions.
It helps the integration of multiple systems into one connected application that joins the dots for all your business processes. SMEs can now save employees time and boost efficiency with automated tasks and workflows. All these can be attained with Office 365 productivity tools like Outlook, Teams, Word, etc.
Dynamics 365 Business Central thrives on the sole aspect of flexibility for your businesses. Start quickly and grow even quicker. Choose us to ease the tasks of tailoring customization to match your unique business or industry-specific needs.
How Business Central Can Help Segregate Different Aspects of your Business
Get a genuine ERP solution that is quick to set up and provides easy to import data from other software solutions. MS Dynamics 365 Business Central helps swift integration of the current system and starts operating immediately. An integrated ERP system reduces costs and improves the processes of the enterprise.
Migrating On-Premises Data to Dynamics 365 Business Central Online
If you are an enterprise that runs workloads on-premises but wants to move it to the cloud, you can migrate to Business Central very smoothly. It will give you the benefits of cloud scenarios like Machine Learning, Power Automate, Power BI, and various drive-suggested actions.
The cloud migration tool in Dynamics 365 Business Central online encourages migration from particular versions of specific software.
Integrate Business Processes
When a business necessitates combining multiple systems into a unified connected application to bring various business processes together within a familiar environment of Office tools, then Microsoft Business Central is the solution. With easy and immediate integration in systems, Business Central provides the best enterprise solutions.